Oh look, a new feature! I've decided to do Foodie Fridays, since I love food and cooking is fun, and who doesn't love a recipe every once in a while! Today's recipe is a super easy one, great for college kids who are sick of Ramen noodles (gross) and want something classier than frozen pizza. I even gave it a dorky name. :)
Easy Cheesy Margherita Pizza
You'll need:
Pre-made pizza crust (thin ones are the best in my opinion)
1 medium tomato
fresh basil
fresh mozzarella cheese (look for it in ball shape)
pizza sauce of your choice
olive oil (optional)
Instructions:
Preheat your oven depending on what the package for your pizza crust says. Ours was 425º.
While your oven's heating up, begin slicing your cheese. Slice enough to fit most of the pizza. For the pizza above, we used nine slices of mozzarella. Slice your tomato and pull off some basil leaves. Now you can start assembling! Spread your pizza sauce over the crust and place the mozzarella slices around the outside crust. Place the remaining cheese in the center. Next lay out your tomatoes. I like to lay them in between the mozzarella slices. Then throw on your basil leaves. If you want to, you can drizzle olive oil over the leaves so they get kind of crispy (like we did the first time), but you don't have to. (Second time we made these, we didn't)
Then pop your pizza in the oven! It won't take too long to cook, so keep an eye on it so it doesn't burn. The time will vary depending on the type of crust and heat setting. Ours took about 6-8 minutes.
Once it's done, let it cool for a little bit, then slice it up and enjoy! :)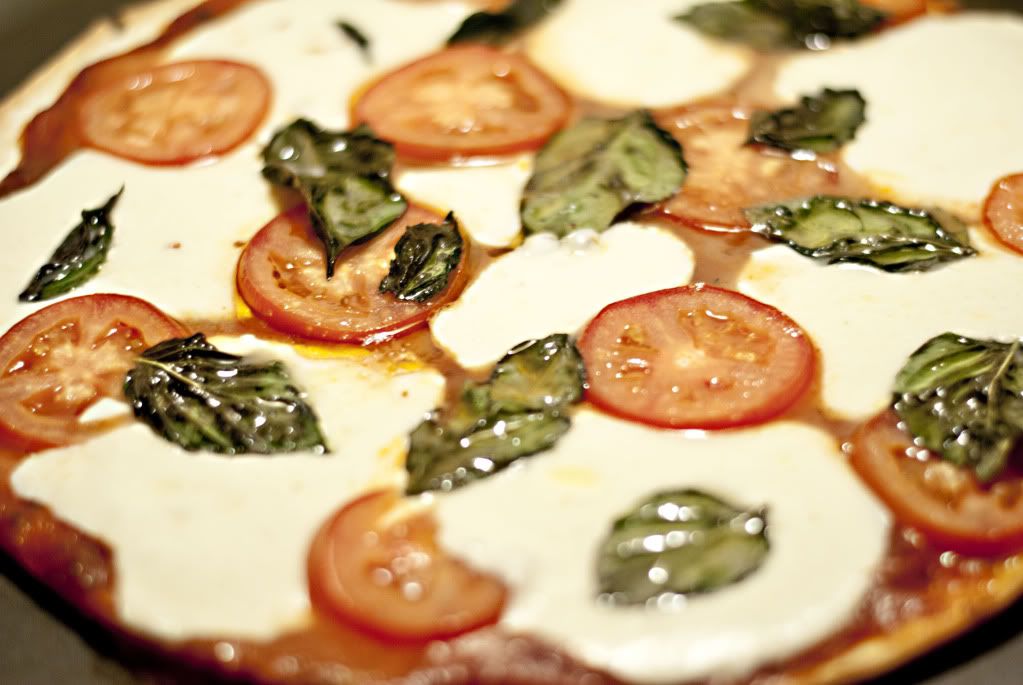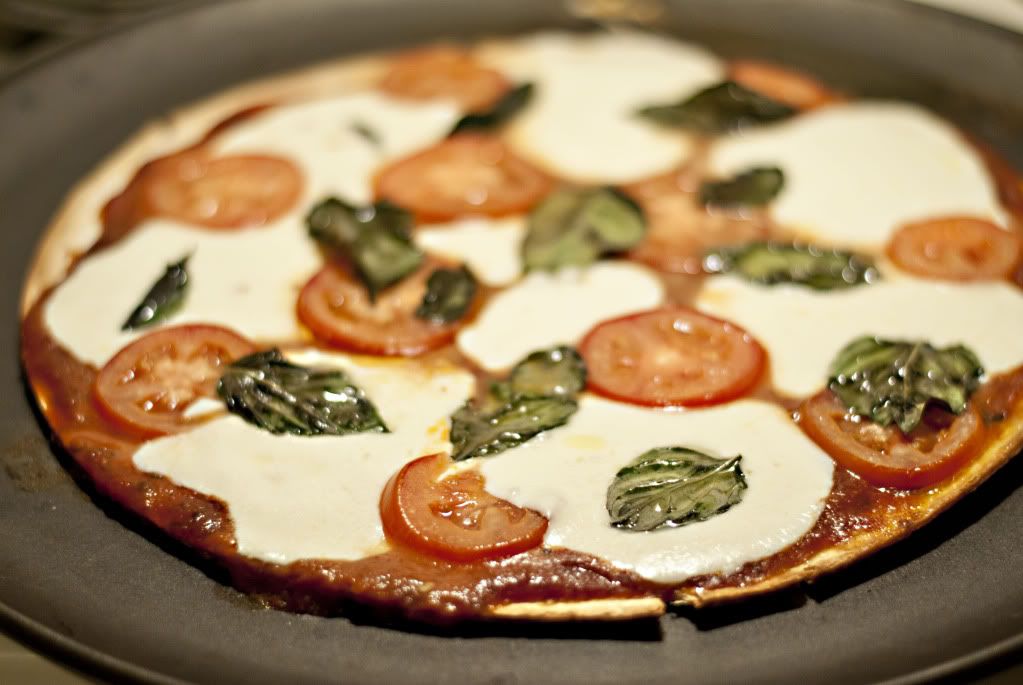 Well, I hope you enjoyed my first recipe post! I know it's not anything very complicated or super original or anything, but Devin and I love making these when we don't have a lot of time to cook anything! So good. :)
Hope everyone has a great weekend,
- Emily